---
Here are the steps to follow to activate the self-cleaning function on whirlpool tubs that have this option:
-Empty the bathtub completely after using the bath.
-Choose the water flow selector to let the water flow out of the jets.
-Turn the flow selector to let the water flow out.
-Allow the water to circulate for a few minutes so that the pipes can be cleaned to remove any debris.
This procedure avoids the accumulation of residues and dirt in the internal pipes of the whirlpool tubs.
---
Maintenance is very simple, all you need to do is keep the right amount of pH and bromine levels and schedule the ozone cleaning to run at least 4 hours a day.

Finally clean the paper filter with water every week and replace it every 6 months.
You will find all the details in the user's manual for outdoor SPA.
From our website, you can purchase the spa maintenance kit, which includes all the products necessary for correct water levels.

Remember that it is advisable to change the water every 6 months even if the water is clear.
---
1. Unplug the spa.
2. Drain the water through the drain valve until the spa has no water in it.
3. Remove the filters. Remember you will need to use new filters before you use the SPA again.
4. Unplug the pumps - circulation, heater, whirlpool, air, etc., meaning: disconnect the pumps to allow the water to drain from the plumbing to neutralize the risk of internal condensation.
5. Dry the pipes: Any water left in the pipes can be sucked out of the air and water jets through a liquid suction pump. Make sure the spa jets are open before performing this operation.
6. Drain any remaining water from the bottom of the spa.
---
To remove the skirts of the outdoor spa, you have to follow the steps shown in the picture, normally the skirt that needs to be removed for the electrical installation is the one under the control panel: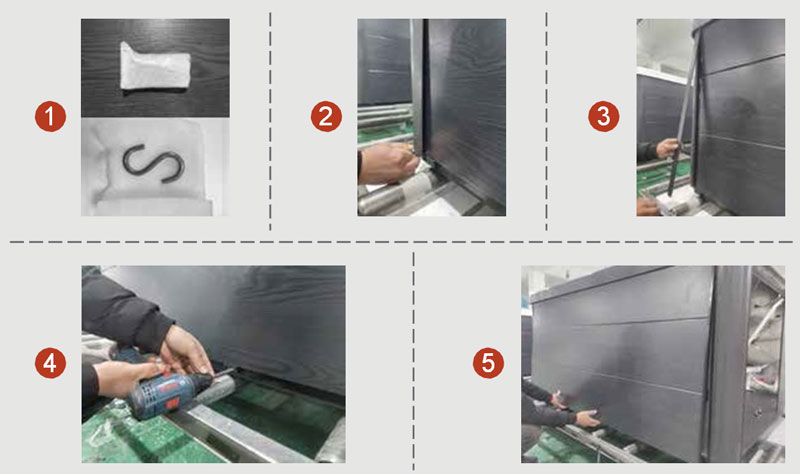 You can use the hook included with the SPA, an Allen key or similar.
On the side of the skirt there is a strip of aluminium, insert the hook and prise it out.
Remove the aluminium strip (to reinstall it, just put it back on and tap it carefully in order to avoid damaging it).
Unscrew and remove the rectangular puller underneath the skirt.
You can now remove the skirt by detaching the lower part and sliding it downwards.
To reinstall it, just follow the same steps in reverse.
---